•••
Epilogue
In the aftermath of his second trial, Mickey Jelke found it hard to escape the attention of the press. Mickey served 21-months in prison and was released in 1957. The press was waiting as he exited the prison in upstate New York. He and Sylvia Eder decided that Florida was more to their liking and settled outside of Miami. They quickly had two children, but domestic bliss was short-lived. Sylvia filed for divorce in 1959, withdrew the suit and filed again in 1960. The divorce became final the next year. Mickey married again and divorced again. The press followed and dutifully reported the allegations. By 1970, Mickey had finally found peace in southern Florida, but Michael J. Brody Jr.'s giveaway antics brought him back into the news as a background piece to the gold rush. He lived the rest of his life in Southern Florida, apparently satisfied to live off the income from various trusts established by his father or grandfather. One report, in 1990, estimated the income to be $318,000 per year. Mickey lived well, with a big house, a condo and a Rolls-Royce. He died, age 59, perhaps because of complications from cirrhosis of the liver. The long nights of drinking had finally caught up with him.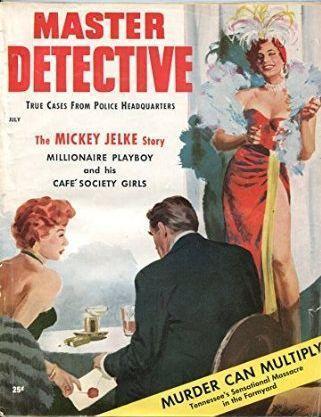 Like Mickey, Pat Ward also lingered prominently in the news for a few months, with the public appetite for details of her life still saleable—what she was doing, who she was dating. She dated and ditched a Connecticut nutmeg trucker, then moved back to New York and the Greenwich Village crowd of beatniks and bikers. She then slowly receded from the headlines, but her name periodically re-surfaced in the gossip columns as any mention of her sold papers. She had trouble with the I.R.S., which hounded her for taxes from the money she earned as Mickey's play-for-pay gal. She married an attorney, and divorced him within two years. She made the dating scene, and rumors and spottings of her with one new beau or another were common. She soon married a wealthy Miami osteopath, but the marriage was stormy. She filed for divorce and withdrew the petition at least twice. She gave birth, to a boy. Her husband filed for divorce. They reconciled, and she filed for divorce, which became final. She tried becoming a singer. She overdosed on pills at least three times, either by accident or as pathetic suicide attempts. The newspapers and pulp magazines followed her travails with such titles as "What Happened to Pat Ward?"
By the mid-1960s, she had lost some of her youth and beauty, but she was still a striking woman. She and her son had moved to New York, but she was having trouble making a living. She began to work on her kiss-and-tell memoir and appeared on The David Susskind Show to publicize the work-in-progress. On the show, she said she was desperate and needed work. The offers rolled in: as a bathing suit model, a cocktail waitress, work in a beauty salon. The pastor of the First Reformed Church of Mt. Vernon in New York offered her a job as a church counselor. Reverend Harold Bredesen told the press, "She impressed me as being a real person, something genuine." There is no record that she took the job or that she ever finished her tell-all autobiography. By the time Brody made his promise to give away his oleo fortune, she had submerged again. The Brody story brought Mickey's name back into the newspapers but not Pat Ward's. By late 1971, Pat Ward had finally disappeared into anonymity, with a last, brief mention of her in a New York paper in the fall of that year: "Pat Ward, teenage prostie of the Mickey Jelke scandal a thousand N.Y. disgraces ago, is around town again with a new hairdo (short), new figure (slender) and a new name; why make any more trouble for the poor dupe by revealing it."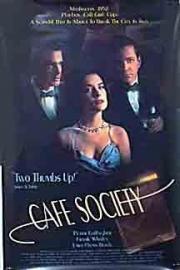 The story of Mickey and Pat made it to the big screen in 1995. Café Society starred Frank Whaley as Mickey and Lara Flynn Boyle as Pat. The move focuses on the relationship between Mickey and Pat as he coerces her into prostitution. Mickey is portrayed sympathetically as a scapegoat for the police and politicians. In some way, the movie missed the real story: it ends as the first trial is about to begin. The reviews for the movie were mixed, and it quickly moved to cable television. One review's title indicated it was stylish but superficial. Another said it was "a pulpy throwback to the film noirs and B-movies of the 1940s," but ultimately concluded it was "mildly amusing but unengaging." It is available on dvd. It is faithful to the story but not historically accurate in many aspects.