•••
OLEO: AT HOME Π; CAFES Δ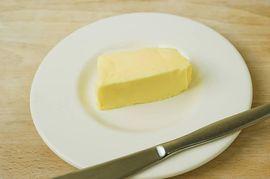 Largely forgotten in the press coverage of the Jelke vice trial was Mickey, the poor little rich boy. Pat Ward, J. Roland Sala, Judge Valente and the larger issues of freedom of the press and censorship had all taken the stage away from the Oleo Heir, but he was not entirely ignored. His name entered the political arena again, this time in the continuing battle by certain state legislatures to prohibit yellow margarine. The federal Margarine Act of 1950 had left some regulation of the manufacturing and marketing of the butter substitute to the states. Many legislatures repealed or relaxed the anti-margarine legislation they had enacted in the early days of the color wars, but a few stalwart dairy states held out. By the time Mickey's trial began in 1953, there were only a handful of pro-dairy states that still protected the buttermen. Vermont and Montana repealed their oppressive laws at the start of the trial, leaving only five states with laws restricting margarine. When Pat Ward began naming names, the Iowa General Assembly began a fierce debate about its laws, which imposed a tax and other burdens on yellow margarine. Though the Jelke family had sold its oleo business in 1948, Mickey soon found himself at the center of the Iowa debate.
The Iowa Senate had quickly passed a bill to repeal the existing Iowa law, but the House of Representatives divided, dairymen against margarine drummers. There was considerable pressure on the pro-dairy politicians to repeal the law, but they fought hard to amend the bill so that yellow margarine would struggle. One amendment required that yellow margarine be fortified with vitamins. Another required that packages of oleo sold in grocery stores be wrapped and sealed to prevent customers from switching butter into oleo cartons (and therefore buying butter at oleo prices). Another required that all margarine have at least 80% of its vegetable oils made from soy beans (an Iowa crop). But the amendment that received the strongest support was one that required that a pound of margarine sold to consumers be cut into ¼ pound bars with a triangular base so that the consumer would not confuse it with butter's ¼ pound rectangular shape: similarly, in public restaurants, margarine would have to be served in a triangular wedge instead of the square shape common to butter. The amendment caused quite a stir, with witnesses testifying pro and con about whether it was feasible to process and market margarine in a ¼ pound triangular prism.
As the debate raged, Representative Lawrence Putney, from Gladbrook, a little farming community in east-central Iowa, rose to the floor of the Iowa State Capitol Building in Des Moines and began a speech against margarine. He had been raised on oleomargarine, he said. On a brand of oleo that "you are all familiar with—Jelke's Good Luck Oleomargarine." But he had saved himself from the evil temptation of margarine and became a butterman. "You have all read about Jelke and Pat Ward. Did you ever hear of any dairyman's son or butterman's son cavorting around in New York City?" The debate continued. Another representative argued that there was nothing wrong with white margarine that could be colored at home by the housewife, who according to the politician had "excess leisure" time. She could easily color margarine yellow at home while sitting in front of the television, the representative argued, adding that any housewife who was for pre-colored yellow margarine had been led astray by "the voice from the sewers of Chicago and oleo cartels." A few days before Mickey's attorneys rested their case, the Iowa House of Representatives reached a compromise, passing a bill that allowed yellow margarine to be sold to consumers, packaged the same as butter in ¼ pound rectangular bars, but still required public establishments to serve margarine in triangular patties. The banner headline of the Cedar Rapids Gazette the next day summed up the historic bill: OLEO: AT HOME Π; CAFES Δ.
Iowa legislators were not the only ones who saw symbolism in Mickey's life or trial. As the vice trial played out in the Criminal Courts Building, it spawned many editorials—about freedom of the press, poor girls and rich boys on the glitter road. Jelke's debauched lifestyle and his wild spending brought much criticism. He was an easy mark—a young, perhaps naïve, playboy with money and little responsibility. He was a symbol of all that was wrong with the nightclub set. His oleomargarine inheritance was a particular topic of concern, and Mickey came to be seen by some as a symbol of the destructive power of wealth accumulated and held generation to generation. Inez Robb, a New York columnist, wrote that the only thing the Minot "Mickey" Jelke case had proved was the need for a confiscatory inheritance tax. "From shirtsleeves to shirtsleeves in three generations, isn't fast enough in the case of a Jelke. Strip 'em in each generation and let the young punks roll up their sleeves and earn their livings by the sweat of their Neanderthal brows. Or let 'em starve." Robb thought that the government should take Mickey's inheritance (and all inheritances) and use the money to aid the poor.
While Mickey was clearly losing the public relations war, his attorneys were more optimistic about persuading the jury that he had been railroaded by an overzealous prosecutor looking to make a name and by a jilted ex-lover with a notorious past looking for revenge. Mickey's defense strategy was simple: his attorneys would show that the prosecution witnesses, primarily Pat Ward, were unreliable and that Mickey did not need to have women earn money for him because he was flush with oleo cash. The defense called witness after witness who chipped away at Pat Ward's credibility or elements of her story. Two high school teachers of Pat Ward's testified she was an indifferent student who hung around with the wrong crowd and liked to stay out late. A banker explained that the source of the monies into Mickey's account were loans from Mickey's older brothers or the bank (and, by implication, not the profits of prostitution). By far, the star defense witness was Mickey's mother.
Elizabeth Minot Clarke Teal tried her best to help her youngest child—her baby. The thrust of her testimony refuted the prosecution's theory of Mickey's motivation. Mickey had no need to pimp out Pat Ward and the other women according to Mrs. Teal. There was a trust established by his grandfather that paid him a tidy monthly sum. In addition, Mrs. Teal sent him large sums of money or expensive gifts nearly every month. She also disputed Pat Ward's testimony that Pat and Mickey had been engaged and that Pat Ward had met Mrs. Teal several times at her Park Avenue apartment or weekend Connecticut home. Mrs. Teal could remember meeting Ward only once, and she immediately took a disliking to her, telling Mickey not to bring that girl around anymore. One headline summed up Mrs. Teal's testimony: "Jelke's Mother Tries Hard to Whitewash Accused Pimp."
Despite promises by Mickey's attorneys that they would destroy the prosecution's case, the defense case was rather tame. Mickey invoked his constitutional right not to testify. The attorneys were unable to locate the mystery witness, who had been identified in the press as Grace Appel, a childhood friend of Pat Ward's. Neither Appel's mother nor her attorney knew her whereabouts. The defense rested after two days. Nevertheless, Mickey's attorneys were confident that the jury would not believe the cadre of pimps and prostitutes whose testimony had constructed the case.
After motions, Judge Valente threw out six of the nine counts. The jury would have to decide whether Mickey had procured Pat Ward, Marguerite Cordova and Pat Thompson. Closing arguments began. The defense attacked the credibility of the witnesses and accused the D.A.'s office of a frame up to catch a man with a famous last name. The prosecution's summation ended with a rebuttal. "Please don't go off on a note of sympathy in deciding this case. Please don't be confused by the great name of Jelke. The family is not on trial." The family, Liebler said, "did not do the things that are charged here today. This young Jelke did them, Mickey Jelke." Liebler pointed at Mickey. "That's the man you are to concern yourself with. Did he or did he not do the things that he was charged with. Forget the Jelke name."
By the time Assistant D.A. Liebler finished his summation, it was late in the day. Judge Valente decided against charging the jury and recessed until the next morning when everyone could be fresh. As a precaution, he revoked Mickey's bail and ordered him detained. This was standard practice to prevent a defendant from fleeing. As Mickey was led to jail, he told the press that he still felt confident.
The next morning, the defendant and attorneys arrived early and took their positions at the trial tables. The attorneys expected the morning to be routine. The Judge would instruct the jury, which would take about 90 minutes, and then the jury would begin its deliberation. Mickey Jelke was nervous. His step-father and brother, Chuck, were in the courtroom, sitting in the first row. Mickey's mother was not present but she had sent a hand-written note: "I am with you in spirit." Reporters jammed the courtroom, and many more stood by in the corridor. Something had delayed Judge Valente's taking the bench. After more than an hour's wait, court was finally called to order, and Judge Valente gaveled the crowd to silence.
"Gentlemen," Judge Valente began, "last night about 11 o-clock I received a call from Walter Winchell at my home and he told me that he had, and could produce, Grace Appel. He asked me whether I wanted her in the court here this morning, and I said I did. Grace Appel is present at this time with Mr. Winchell in my chambers. She is there available as a witness to both the People and the defendant." Valente looked at Mickey's lead attorney. "Do you wish to speak to her, Mr. Segal?"
"Would you mind, your Honor?"
"Yes, it's all right."
Judge Valente called a recess, and Mickey's attorneys went into a witness room with Grace Appel, the woman they hoped would destroy the People's case.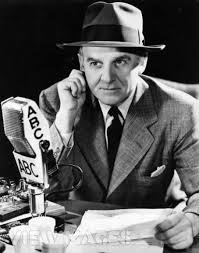 The Mickey Jelke story had revitalized Walter Winchell. From the early 1930s until the mid-point of the century, Winchell had been the most powerful journalist in America. He could make and break careers and reputations with a mention in his column or on his radio show. In a world where the public worshipped celebrities, it was only natural that Winchell the reporter became Winchell the star. His life was made the subject of Hollywood movies, and he even starred in two, playing himself. He was caricatured in Merrie Melodie cartoons. His snap-brim gray Fedora, which he generally wore tilted back and to the side, became the iconic symbol for a newspaperman: nearly every reporter on the big screen wore his hat like Winchell's. His Sunday-night radio show captured and enthralled the audience, and his voice, tough, New York, high-pitched and rapid fire, was immediately recognizable by the public and sought after by Hollywood directors who needed a narrator. President Franklin Roosevelt called him for the latest Broadway jokes and bits of gossip. In August 1939, a few days before Nazi Germany invaded Poland, Louis Buchalter (aka Louis Lepke), the New York mobster who founded Murder, Inc., the fanciful name for the mob's assassination squad, and who was then considered Public Enemy No. 1, insisted on surrendering to Winchell, the only man in America that the crime boss could trust to bring him in safely.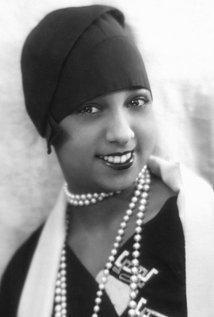 The American public also trusted Winchell, but, during the 1940s, that trust began to erode as it became clear that Winchell had a vindictive streak. He quarreled with many, using his column for revenge and counterattack. He became fixated on rooting out Fascists and Communists in government and the entertainment industry, using smear tactics and innuendo to incriminate his enemies. Winchell was the target of numerous libel suits—by an ex-Congressman, the Church League, a maritime labor organization, a university professor. In 1948, he had reached the pinnacle of his power and fame, but while other newspaper writers ventured into television, Winchell resisted. By 1950, Winchell's fame and influence were descending. Television and competition from dozens of copycat columnists had taken some of Winchell's audience. The slide continued during the first years of the new decade as Winchell found himself in a racial quagmire. Nearly a year before Mickey's arrest, Winchell had become embroiled in a controversy with Josephine Baker, described by one national magazine as the "sleek Negro singer who first achieved fame in Paris by entertaining while clad only in a girdle of bananas," and by one newspaper as a "Negress Singer." Baker was refused service when she and some companions tried to have dinner at The Stork Club, where Winchell perched nightly. Baker claimed that Winchell was complicit in the discrimination, and she and Winchell began a long public fight trading rabbit punches and low blows. Time magazine entitled its article about the battle "Winchell v. Baker."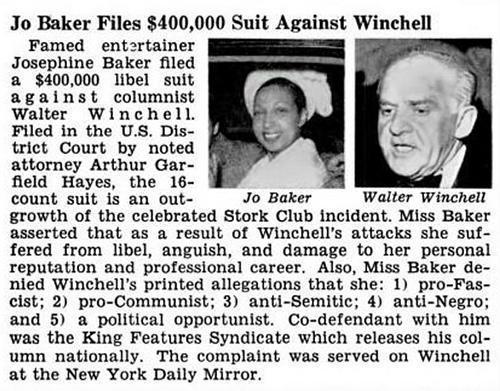 To defend against Baker's charge of racism, Winchell counterpunched with a series of quick jabs: Baker was a communist or a fascist who had supported Mussolini or a racist when she operated a club in Harlem in the early 1930s that refused service to whites. She was an Anti-Semite, a disgrace to her race and a woman of dubious character. Baker would eventually sue Winchell for libel. As Winchell v. Baker reached the middle rounds, the New York Post used the opportunity to sling mud at Winchell, whose column appeared in a rival newspaper, the New York Daily Mirror. According to the Post, Winchell was a Communist baiter with mob connections who did not write his own copy and was controlled by powerful men with political agendas. Amidst the controversy, the journalist became seriously ill, a fact hidden from the public for a time as others continued to ghost write his column. When the illness became public, Winchell took a month-long leave of absence.
By the time of Mickey's arrest, Winchell had returned to work, weakened both publicly and physically. And Winchell had another fight on his hands. Ed Sullivan, who was still writing a daily column for the New York Daily News in addition to hosting his Sunday variety show, joined the fray. Appearing on a New York radio how, Sullivan attacked. "I despise Walter Winchell for what he has done to Josephine Baker," Sullivan told Barry Gray of WMCA. "Long before Senator McCarthy came into this character assassination racket, there was a guy by the name of Walter Winchell" who had "developed into a small-time Hitler" who had perfected the "Big Lie. I say that what Winchell did to Josephine Baker is an insult to the United States." Winchell responded by attacking Gray. Realizing that Sullivan was too popular to attack directly, Winchell tried a flanking maneuver. It was time to test "teevey," as he called it. He signed with A.B.C. to appear on Sunday night—opposite Sullivan, he hoped. The details of the show were being worked out when Mickey Jelke was arrested.
The stubby little oleomargarine heir and his coterie of pay-for-play gals were perfect for Winchell's brand of peephole journalism and his unique writing style. For the seven months after Mickey's arrest, Winchell feasted. The case gave him the opportunity to display his famous "slanguage": It was the "Jack and Jilke" story, and Mickey was a "Jelke and Hyde" heading for "Jailke." The D.A. was conducting an "invicetigation," and Pat Ward was "naughty but vice," who might star in a TV show entitled "I Love Loosely." Pat Ward's attorney, J. Roland Sala, was the Blackstone Barrymore or J. Roland Salami. Valente's decision to bar the public was based on the Judge's belief that "little girls should be obscene but not heard." But the case also provided Winchell with the opportunity to spout off about the power of the press, the base debauchery of the upper class, the corruption of New York City politics, and many other topics.
Winchell had realized, years before the Jelke story broke, that news was gossip, scandal, and, more than anything else, theater. The news biz was show biz, and reporters did not need to be the silent ears of the public. They could participate in the story. They could be the star of the story. Both the prosecution and the defense had been looking for Grace Appel, and Winchell was able to produce her. He had stepped into the story and become the star of the final act. It did not matter what Appel had to say. While Appel was interviewed in the witness room by Mickey's attorneys, Winchell was present, getting the scoop. An hour and a half later, court was reconvened. "Have you interviewed the witness, Grace Appel?" Valente asked Mickey's attorneys.
Martin Benjamin spoke. "We have, if your Honor pleases, there are certain matters upon which we did interview the witness. She feels she would like to have her attorney present while we ask these questions. Her attorney is not here. That's why we were held up." As Benjamin spoke, a rustle could be heard from the hallway. Flash bulbs illuminated the corridor.
"Judging from the flashlights out in the hall," Valente said, "the attorney has arrived." Another recess was taken, and when court reconvened, Mickey's attorneys asked to re-open the case so that the jury could hear Appel's testimony. Assistant D.A. Liebler did not object, and, after the jury was seated, Grace Appel—the mystery witness—was sworn in.
"Did you ever go to the Waldorf-Astoria, to a party with Pat Ward?" Martin Benjamin asked.
"Yes."
"Can you remember approximately when that was?"
"Two years ago."
The Court interjected: "That would be 1951?"
"I would say so," Appel said in a soft voice. She was not certain of the exact date of the party but it was before Pat Ward met Mickey. It was a party thrown by Joey Adams, a leading nightclub performer known as "the fastest joke teller in the East."
"And did there come a time at this party when you, Joey Adams and Pat Ward were there alone and the other person or persons had left?"
"That's right?"
"At that time, to your knowledge, did anything unusual happen between Pat Ward and Joey Adams?"
"I object," said Appel softly just before her attorney stood up and asserted his client's constitutional right to refuse to answer that question. The answer would tend to "degrade" her, the attorney said. Judge Valente summoned Appel's attorney to the bench for a conference outside of the hearing of the jury and the other attorneys. It was a short conference, lasting no more than a minute or two.
Appel's attorney stepped back, and Judge Valente made a statement to the jury: "The answer of the witness is that she refuses to answer on the ground that her answer might tend to incriminate or degrade her." Benjamin's direct examination of Appel ended. He had accomplished what he wanted, even if Grace Appel did not answer the question. He knew that the jury would understand what had happened with Joey Adams. Before Pat Ward met Mickey, she had engaged in an act of immorality, if not prostitution. And they knew that no answer was better than any answer, for the jury would be allowed to speculate and imagine the dirty details of the ménage a trois. The press, with a tender morsel of scandal to feast on, rushed to confront Adams. He denied everything.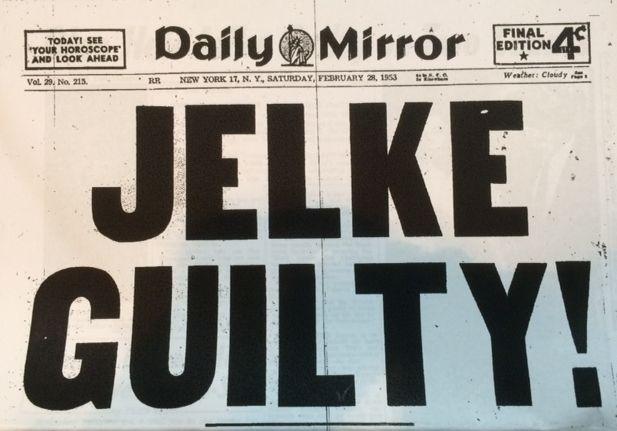 After a lengthy summation and instruction by Judge Valente, the jury was sent to begin deliberations. After several hours, the Foreman sent a question. "Judge Valente, if in the event we find the defendant guilty, is it in order to make a recommendation for mercy?" Judge Valente answered the question: "You may make a recommendation if you want to. It is discretionary with me whether I will follow it." Twenty minutes later, the jury returned its verdict. Guilty on the charges of procuring Pat Ward and Marguerite Cordova. Not guilty on the charges related to Pat Thompson. The jury also recommended that Mickey be given mercy by the court in sentencing.
A month later, at Mickey Jelke's sentencing hearing, Judge Valente listened to the arguments of the attorneys. Valente was familiar with all of the materials that had been submitted. Mickey's parents asked for leniency. They had hired the best psychiatrists to treat Mickey—to cure what, in today's parlance, is known as a sex addiction. A week earlier, Judge Valente sat at the sentencing for the gun possession charge and had given Mickey eight months, a rather stiff sentence, but Valente had hinted that he might be more lenient when considering the vice charges. Mickey and his attorneys were hopeful that the Judge would follow the jury's advice.
The sentencing hearing on the vice charges gave Valente one last opportunity to comment upon the press feeding frenzy. He was a studious and meticulous judge. He penned his thoughts on a pad and had them typed up. He mimeographed copies to distribute to the press. He read slowly with a firm voice. Jelke had been arrested on August 15, 1952, and "overnight his case acquired a news potential that overshadowed any case of its kind in the history of this court." By the start of the trial, the "constant front-paging of conjecture and surmise" had created an "audience highly susceptible to the unsavory fare some forty press representatives were prepared to serve." There was only one alternative—the order of exclusion, which was motivated to preserve common decency and good public morals. Valente paused to make certain that the court stenographer was keeping pace with his reading. It was regrettable, he continued, that certain segments of the press reacted as they did to the exclusion order. While some newspapers appealed his order, other news organizations restored to "covinous conduct" to obtain information about the testimony. "A disorderly, carnival atmosphere was deliberately created outside the courtroom—witnesses were accosted and questioned in the corridors—and garbled versions of testimony were published as a journalistic coup." Valente, himself, was attacked in the press. It was little more than "an attempt at intimidation, a cunning campaign of vilification by innuendo."
Valente paused again, looked up from his notes and scanned the courtroom, crowded with reporters. "Clearly, such reckless and unrestrained acts are not consonant with the true concept of freedom of the press." He took a sip of water. "Freedom of the press must be kept vigorous, for it guards all our other freedoms. But freedom of the press does not mean license, needlessly, to spread salaciousness. Somewhere the line must be drawn—and if our press is to remain independent, this line must be drawn by the press itself in keeping with the highest principles and traditions of responsible journalism. The protection of our young must transcend journalistic commercialism."
He then turned to Mickey's punishment. He rejected the argument that Mickey should receive a suspended sentence while he continued his rehabilitation. His parents had met several times with him to convince him that what Mickey needed was to go to work and live decently. Citing "the greed, wanton self-debasement, venal exploitation and progressive debauchery," Valente sentenced little fat Mickey to three to six years in prison. The next day, the newspapers recounted Judge Valente's comments about Mickey's lifestyle in glorious detail. Only a few newspapers reported Judge Valente's remarks about the press.
Mickey had been incarcerated at The Tombs, the New York City jail, waiting for his sentencing on the vice trial. He was quietly transferred to Riker's Island to serve his debt to society. In the weeks that followed, the café comics continued with Jelke jokes, many even working Judge Valente or Pat Ward into their monologues. Bob Hope was emceeing a benefits banquet for a charity. Milton Berle was one of the headliners. "Get a load of this crowd here," Berle said to the packed audience, "It's like Judge Valente's waiting room." The comic had other Jelke jokes, even one about another jokester. Jack Benny couldn't make it tonight, Berle explained to the spectators. He's in the hospital in the "Pat Ward." At Riker's Island, Mickey was assigned a job in the prison bakery, and many pundits found humor in it, particularly Winchell. He's still in the dough, Winchell wrote in one column. In another, he printed both the set up and the punch line: "Wot's he doing,…making the little tarts?"
In the aftermath of the trial, many sought to cash in on the infamy of the Jelke story. The sketch artist sent by Life to cover the trial soon displayed his originals at an East Side art gallery. One publisher offered an "art book" with nude photos of "Pat Ward," but buyers were disappointed when they discovered the model was not the Pat Ward but rather a British woman of the same name. Meanwhile, it was reported that the real Pat Ward planned a career as a nightclub singer. There were many reports of books and possible movie projects. Sala supposedly asked Maurice Zolotow, a renowned author of celebrity biographies, to ghost Pat Ward's kiss-and-tell-all, but the writer declined. Sala was also rumored to be writing a book. Winchell wondered whether it would be a "best-Sala." Jackie Coogan, the former child star, was planning a full-length movie about Pat Ward. A men's magazine wanted to buy Mickey's story, which it tentatively titled, "I Dealt in Human Dolls." Many of the photos in Mickey's apartment that had been confiscated by the police were soon being peddled in back alleys. Some, according to Walter Winchell, were so "raw" that the D.A. had decided not to put them into evidence.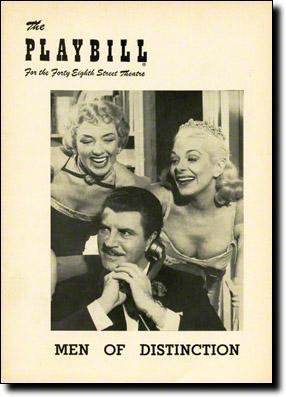 Book projects by Erica Steel or other call girls were supposedly being written, ghosted or edited. Amidst the rumors, a play loosely based on the facts of the case made it to Broadway. Men of Distinction, by Richard Condon, a young ad-writer and publicity man who would later pen Manchurian Candidate, Prizzi's Honor and half-a-dozen other best sellers, opened at the 48th Street Theater on April 30, 1953. Best described as a farce, the play starred Robert Preston and Chandler Cowles, but Orson Bean, in a supporting role, garnered the best reviews. According to one writer, it featured "the greatest collection of connivers and double-crossers ever seen." Another review said that it gathered "a modest harvest of easy laughs, but is in such dismal taste its prolongation is most unlikely." It closed after four performances. While others were trying to cash in on Mickey's fame, his family was spending the oleo dollars on his defense. The attorney's fees for the first case were over $200,000, and there were also large bills from private detectives hired to track down witnesses to exonerate the poor little rich boy. The Jelkes were not through spending the oleo dough. The Jelkes hired new attorneys to press Mickey's case through the appellate courts.