•••
Deadline—U.S.A.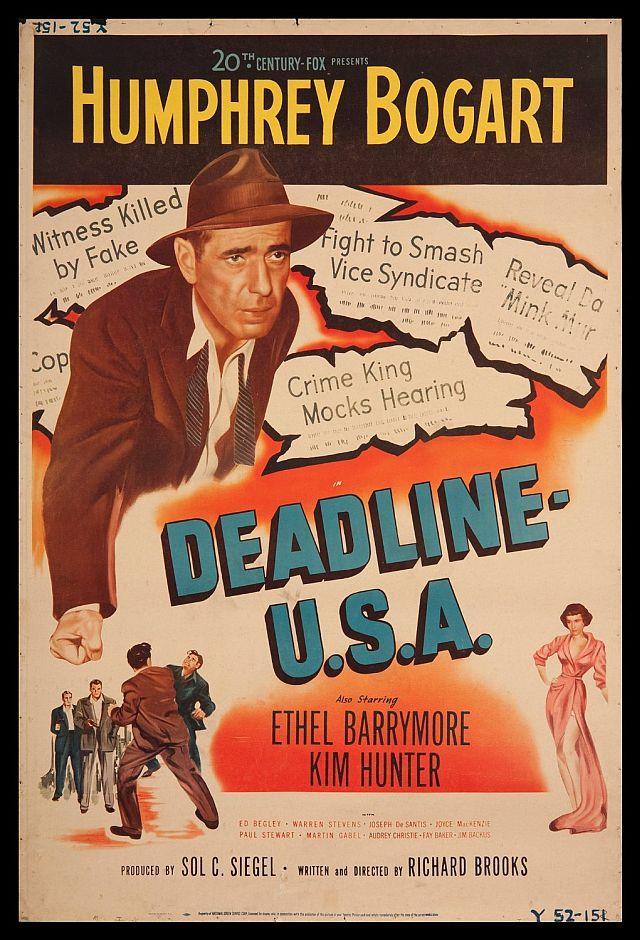 The reporters' fascination with Brody's uncle was understandable. Minot Faris Jelke, whom everyone called Mickey, had become famous a generation earlier as the Oleomargarine Heir. Mickey had wanted to be a playboy like his older brother, John F. Jelke III, known as Johnny. The elder Jelke boy was a handsome young man who had been a highly decorated World War II fighter pilot. He dated starlets and heiresses, and had forged a reputation as a man's man when he got into a fistfight with Humphrey Bogart at the El Morocco in 1949. In contrast, Mickey had all the wrong attributes to be a swinger. Barely 5' 5" and pudgy, Mickey wore elevator shoes and Brylcreemed his hair straight back in a pompadour to give him more height. When the ruckus with Humphrey Bogart occurred at the El Morocco in 1949, Mickey was only 19-years old, but he had already had his taste of the Café Society, the phrase that was used by newspaper reporters like Walter Winchell and Ed Sullivan to refer to the Manhattan social set that frequented such places as The Stork Club, El Morocco or 21 Club. Those were the places to see and be seen, where the rich and the powerful—businessmen, gangsters, starlets, crooners, actors and athletes—wined and dined on a daily basis. In those clubs, Mickey Jelke had found himself a home. He found comfort in the world of black tie, evening dresses and booze. He didn't work, nor planned to do so, and so he was free to party each day well past midnight, then sleep late and begin the process over again. He woke generally at 1:00 p.m. and took his first meal at Armando's, then went next door to the Little Club for afternoon cocktails. Between 5:00 and 6:00 p.m., he moved to El Borracho, also for a drink or two, and then to La Vie En Rose, another bar. He returned to his apartment around 8:00 p.m. to change into more appropriate dinner attire, then dined and danced at El Morocco until 2:00 or 3:00 a.m. From there, he often went to the Gold Key Club, an after-hours joint. Many days he went to bed around 6:00 a.m.
Mickey and his more dashing brother, Johnny, were among the founders of the Bachelors Club of America. The Club was simply a way to meet girls and market the members, all sons from wealthy families. In 1951, the Club picked a list of the top ten "most desirable unattached women in America" who were most likely to make a bachelor "reconsider his current state of unwedded bliss." The Club's top ten list of most eligible bachelors in America, released in 1952, a leap year, included Johnny. The press said Johnny had "purse n ality." What he lacked in physical appeal, Mickey made up for with the same "purse n ality": the allure of his family's oleo fortune. Mickey used that allure. He dated women—lots of them—as he mixed and mingled with the Manhattan-club set. He rented an expensive apartment on East 47th Street between Park and Madison Avenues, just a few blocks to the south of Manhattan's Silk Stocking District, where many of his favorite clubs were located. The Silk Stocking District, now called the Upper East Side, housed not only the nightclubs and restaurants of the Café Society, but the residences of the rich and famous. But it also had a shadowy side.
Mickey fancied himself a tough guy, and he liked to be around some of the fringe elements of the Café Society. By late 1951, he had fallen in with a bad crowd, one whose members had many aliases. One of Mickey's new friends was Raymond Russell Davioni, who was also called Ray Russell Davioni or R. Russell Davioni or Ray Russell or, simply, Russell. He had a long rap sheet. Davioni said he was a press agent or a publicity man. He carried a portfolio of photos of his clients: young women who wanted to be models and actresses. For a price, he would sell more tantalizing photos of the women or, for more money, he would sell the women. In the slang of the era, he was a "P.I." In legal terms, he was a procurer or a panderer. In common parlance, he was a pimp, albeit a high class one. Davioni sometimes procured women for Mickey, but mostly he provided Mickey with risqué and pornographic photos. Davioni and Mickey became fast friends, and Davioni introduced Mickey to other men with multiple names, such as Richard Wallace, aka Richard Short, a tall, handsome Californian who had a bit part in Danny Kaye's The Kid from Brooklyn, or men like Robert Merritt, who, similar to Davioni, was a publicity agent without any clients. Those men shared a passion for women and a belief that no man, whether a gentleman or a rogue, should have to work. It was simply unfashionable.
Mickey's life of leisure and wanton wickedness was, of course, expensive. With the champagne and cocktails, the meals and the lavish tips to headwaiters, doormen and others, Mickey easily could spend $250 to $300 a day if he had a date, which he usually did. In 1951, the average weekly family income was $65.00, and Mickey was spending four times that much each day. Mickey was waiting for his Good Luck inheritance, which would pay out when he reached the age of 25. Until then, his only income was from a trust fund created by his grandfather that paid him a small sum each month. His rent was $147 per month—a high price then—which did not leave much to live on. Within a short time, Mickey had run through his savings. He had to ask his older brothers or parents for loans and cash gifts. By the fall of 1951, the gossip in the Café Society had it that Mickey was broke. Needing cash to keep himself in the style he had grown accustomed to living, Mickey decided to start his own business. Though he had the entrepreneurial spirit of his father and grandfather and great-grandfather, he had none of their luck or success.
In the early morning hours of August 15, 1952, Mickey was sleeping in his apartment. His fiancée, Sylvia Eder, two years his senior and a very lovely and curvaceous silver blonde, slept naked by his side. It had been a hot and humid night and the windows had been left open, but neither Mickey nor Sylvia heard the six big men as they climbed the three flights of stairs to Mickey's apartment. One of the men rang the doorbell. He rang it again and a third time. Finally, Mickey, half dressed and half asleep, answered the door. "What the hell do you want?"
The men pushed into the apartment, flashing New York City detective badges. One held Mickey's arm, and the others moved to secure the apartment. The living room was handsomely furnished with a modern sofa and chairs, an intricate bar and a thick shag rug. Dozens of photos were carefully framed and arranged on the walls: black-and-white photos of naked and semi-clad women in various poses, from cheesecake to porno. From the living room, a hallway led to the bathroom. The walls of that corridor were also adorned with photos of women. As one of the detectives approached the bedroom, Eder appeared, still nude. She screamed and tried to run to Mickey. The detective grabbed her by the arm. "Get dressed," he said, leading her by the elbow back to the bedroom. He stood by as she dressed hurriedly, then grabbed her arm and walked her to the living room, where the other detectives towered over short Mickey.
Mickey was arrested and his fiancée was placed in protective custody by the detectives, who were from a special force working directly for District Attorney Frank Hogan. Four detectives whisked the suspects down the three-flights of stairs to a waiting unmarked car. It was early morning, after the late night traffic and before the morning commute. The unmarked car had no trouble making its way downtown to the D.A.'s office, where its occupants would be questioned for hours. The two remaining detectives began the search of Jelke's apartment, rifling through drawers and closets, tossing mattresses and pillows. They found more nudie photos, some loose in drawers, many others in leather bound volumes. There were photos of women alone, most cheesecake or more risqué, but another portfolio depicted women in various sexual positions with men or, in a few instances, with other women. Some of the photos showed women in flagrante delicto with Mickey. The search continued, and within a short time, the detectives had logged into evidence a loaded, unregistered .38 revolver and a little black address book. The detectives then searched Mickey's new powder-blue Cadillac, parked outside in front of his apartment. The detectives found a loaded .32 automatic, also unregistered. They confiscated the handgun as evidence and impounded the Cadillac.
In March 1952, about five months before Mickey's arrest and two and one-half years after Johnny Jelke and Humphrey Bogart tangled in the El Morocco, Deadline—U.S.A. was released by Twentieth Century Fox. Bogart starred as Ed Hutcheson, the crusading editor of the Day, a fictional New York broadsheet that was losing the war against the tabloids. With the paper scheduled to be sold to a rival tabloid, Bogart's character makes one final attempt at true journalism, an exposé of a local mobster. Perhaps Bogart's time in the tabloid headlines after the El Morocco fracas made him agree to star in the newsroom drama. In a famous scene, Bogart's character laments the state of the news business: it was "not enough anymore to give 'em just news. They want comics, contests, puzzles. They want to know how to bake a cake, win friends, and influence the future. Ergo, horoscopes, tips on the horses, interpretation of dreams so they can win on the numbers lottery. And, if they accidentally stumble on the first page... news!" But Bogart's character never addressed the more insidious aspect of the newspaper industry. The public didn't just want comics and contests, nor was it satisfied to read story after story about important world and domestic events. The public wanted the lurid headlines and the titillating details, stories about Hollywood stars or heirs to fortunes behaving badly, stories about sex and scandal. And so, the newspapers sold what sells, packaging and arranging stories. Mickey Jelke's arrest was made to order.
The raid on Mickey's apartment in August 1952 was part of a coordinated effort by the District Attorney to break up a high-class call girl ring that had been flourishing in the Café Society. Several other pre-dawn raids were made that hot summer morning, with similar groups of burly detectives dressed in gray suits and wearing fedoras knocking on doors and breaking up what the newspapers called "dating parties" in the Silk-Stocking district. Arrested in a raid eleven blocks from Jelke's apartment were Erica Steel, a 28-year-old buxom redhead, and Barbara Harmon, a tall 31-year-old blonde, both of whom once played bit parts on TV shows. In a third raid, the police arrested Ray Davioni and his wife. The fourth raid snared two young women, Joan Douglas, 20, a brunette from Maryland who claimed she was a model, and Nancy Hawkins, 23, a voluptuous peroxide blonde who also claimed modeling as her livelihood. Another woman, a teenager whose name was not disclosed because of her age, was taken into custody at her mother's home. The women were ferried to the Criminal Courts building for questioning. Erica Steel asked to go to the ladies room, and there, alone, she tore the pages of her address book into shreds and tossed the scraps out the window. Reporters on the street quickly gathered them and then spent hours trying to piece them together. The scraps, the UPI wire duly noted the next day, "listed dozens of men's names in green ink with the figures $20, $25, and $50."
The sweep of the New York vice racket was the biggest crackdown since 1936, when Lucky Luciano, the mobster, was snared as a white slaver. The D.A. had been investigating the Café Society for over seven months, having been tipped off by prostitutes plying their trade on the lower east side, where the going rate was much lower than that being charged uptown. When the downtown ladies of the evening were arrested, they protested, claiming economic discrimination and pointing the D.A.'s office to the uptown whore houses. The D.A.'s subsequent investigation into the call-girls who serviced the Café Society was hardly a secret. Dorothy Kilgallen in a May 1952 column apparently knew of the investigation, writing: "One of café society's most publicized playboys is being watched by the gendarmes. They've caught on to the fact that he earns his living 'introducing' unattached beauties to prowling males." Walter Winchell had also mentioned in one of his columns that the D.A. was sniffing around the clubs. After the arrests that snared Jelke, Winchell puffed his journalistic skills: "Amazing that the principals were trapped considering how often this colyum tipped off the coming crackdowns. Common gab for 6 months."
Mickey was arraigned on charges of compulsory prostitution, alleging that he coerced young women, most of whom wanted to be models but held jobs as hat check or cigarette girls, into becoming high-priced call girls for millionaire playboys, Hollywood stars and other celebrities. He was also charged with violating the Sullivan Law—the illegal possession of firearms. The State of New York argued for a high bond. The gun possession charge was serious in itself, subjecting Mickey to up to three years in prison, and the vice charge meant that Mickey could be sentenced to 146 years. But it was Mickey's status as heir to the Good Luck Margarine fortune that troubled the D.A.'s office. "He is the son of a well-known family in New York, a very wealthy family," Assistant D.A. Anthony Liebler told the Judge. "There is enough money behind him to spirit him out of this jurisdiction for all time." After a short deliberation, the court set the bond at $50,000, which was quickly posted by Mickey's mother, who had remarried and was living in a Park Avenue apartment with her new husband, Ralph W. Teal. Mickey was released within a few hours. The reporters were waiting when he walked out of the Criminal Courts building.
August is a notoriously slow news month, and August 1952 was no exception. The city was quiet. Another subway series loomed. The Yankees were three up on the Cleveland squad, and the Brooklyn Dodgers held an eight game lead over their cross-town rivals, the New York Giants, but the season still had another month to go. A title fight between heavyweight champion Jersey Joe Walcott and top contender Rocky Marciano was in the offing, but negotiations had bogged down as the champ wanted more money. The presidential campaign was in a lull: the party conventions had ended in July, and the nominations were in place, but the real campaigning would not begin until after Labor Day. Communism, communists or communist plots of some sort were still in the news, but it was old and tired. A Senate Subcommittee was holding a hearing on the infiltration of communists in the Boy Scouts and high school clubs. In Korea, the Marines were repulsing yet another advance by Red Chinese forces on Bunker Hill in the western front, but the war, more than three years old, held little popular appeal. In another Asian hotspot, politicians in Vietnam vowed to rid the government of Vietminh infiltrators, and American-supplied planes ravaged communist strongholds with bombs, napalm and rockets. French troops were conducting search-and-destroy operations in the Tonkin Delta in order to prevent the spread of the Red Menace. But all of the news about Vietnam was obscure and distant. Not something that would sell a lot of papers.
The New York newspapers were looking for the next hot story to carry them into September. At the time, the Big Apple had eight major daily newspapers, and competition was fierce. The broadsheets tried to deliver serious news in the traditional format, while the tabloids catered to more sensational stories in a magazine-style format. Others straddled the line, pushing both hard news and fluff, but more and more, the lines between the broadsheets and tabloids were blurring. The packaging of the news by the tabloids was winning out, and the broadsheets were beginning to court or keep readers by covering stories that, a few years earlier, had not been fit to print. And the competition for a piece of the news pie was not limited to rival newspapers.
Radio had been a vexing problem for newspapers throughout the 1920s and 1930s, taking both advertising dollars and consumers away. The newspapers battled back, disparaging radio as a fad and arguing that radio journalism was inferior as it could not capture the depth of any story. There were accusations that radio stations illegally used stories from the newspaper wire services. As the 1940s rolled around, newspapers and radio entered into an uneasy truce. Many newspapers purchased radio stations, and many more realized that radio and newspapers could coexist. Consumers often read the morning or evening paper while listening to the radio. Newspapers published the daily radio schedule or reviewed radio programs or gossiped about well-known radio personalities. A few newspapermen, like Walter Winchell and Ed Sullivan, soon had their own radio shows. But the competition between radio and print remained strong at the mid-century mark, and while newspapers struggled to curtail the threat of radio, a new and far more dangerous enemy emerged.
Television, a relatively new medium, was proving to be a preferred source of news and entertainment for many. Television, unlike radio, was incompatible with newspapers as it demanded both the ears and the eyes of the consumer. Watching television was an event unto itself, not something that could be done while reading the paper. It was also largely a communal event, where entire families gathered around to watch Uncle Miltie or Jack Benny. More than radio or print, television also offered both intimacy and immediacy, bringing the broadcasted images into the viewer's living room and at the same time making the viewer feel like an eyewitness. And television had successfully married news and entertainment through the broadcast of sporting and news events. Early on, television had discovered that there was drama and comedy, and even pathos, in such real life events.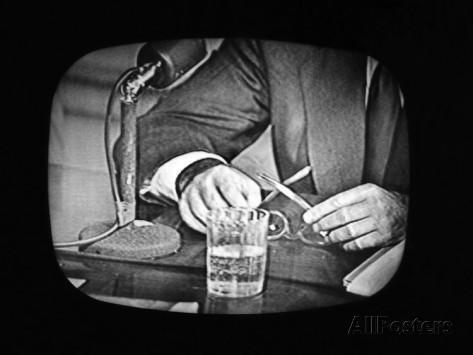 Broadcasts of the World Series began in 1947, college football games soon thereafter. Boxing quickly became a mainstay of the weekly programming. Network news shows began in 1948. The maturation of TV as a conveyor of dramatic news events occurred in the first half of 1951. Estes Kefauver from Tennessee was the chairman of the Senate Special Committee to Investigate Crime in Interstate Commerce. Kefauver's committee began a series of inquisitions in various cities. Kefauver welcomed the television cameras, perhaps because he saw his chairmanship of the hearings as a springboard to the 1952 Democratic Presidential nomination. Soon, the nation was captivated as one mobster after another was brought before the glaring television lights and questioned about prostitution, gambling, money laundering and murder. When Frank Costello, the reputed leader of the Luciano Crime Family in New York, was subpoenaed to testify, he refused to appear before the television cameras. It would be an invasion of his privacy, Costello's attorneys argued, and Kefauver and the networks quietly worked out a deal where Costello would appear before the committee, but the cameras would not film his face as he sat at the witness table. With the cameras focused on Costello's neatly manicured hands and his starched-white sleeves and expensive watch, the public watched, in rapture, as the mobster dogged questions in a throaty voice. His nervously drummed on the table, periodically clutched a glass of water, and rolled paper into little balls. He fiddled with a book of matches or his eyeglasses, clasped and unclasped his hands. He shuffled income tax returns. He shifted positions, held one hand to his head (off camera), then draped it over an empty chair to his side. A cottage industry of pundits speculated whether his fidgety fingers signaled weaknesses in his testimony. Costello eventually tired of the whole affair and refused to answer questions about his wealth. Faced with a contempt citation threat from the Committee, Costello returned the next day to testify but claimed illness and, as if on cue, exited stage left, thus ending his moment in the TV limelight.
By the summer of 1952, television had established itself as a rival to print journalism, and, in July of that year, the networks scored a journalistic coup by broadcasting the Republican and Democratic conventions from gavel to gavel. While newspapers could only recount the speeches, nominations and convention voting, television was able to deliver those events up close and personal as they occurred. Television had come of age. Newspapers fought back by turning to sensationalism and yellow journalism. Stories about vice sold a lot of papers, and Mickey's arrest had all the right elements—a millionaire waiting for a huge inheritance was coercing would-be fashion models into prostitution. The details were delicious. Mickey's inheritance was estimated to be between three and six million dollars, but he would not receive a penny until he turned 25. He needed money, so he started, with Ray Russell Davioni's help, pimping out young women. The photos in Mickey's apartment displayed his stable of women, just as a salesman might have a sample case or a photo album of his wares. A customer could choose his "date" from the photo menu or, if the John wanted to know more about a woman's qualifications, the photos in the leather bound portfolio provided more detailed, and explicit, information of the woman's qualifications and abilities.
"I don't feel there is any chance of these silly accusations being proven," Mickey told the group of reporters waiting for him as he left the police station. A famous adage in the newspaper business, with many variations and often attributed to Randolph Hearst, holds that the first edition should hit the streets before the body of the victim hits the pavement. Within hours, the re-write departments of the New York morning papers worked furiously on getting the story of Jelke's arrest on the street. By afternoon, the story was front page: "Arrest Socialite as Vice Lord" read the headline in the New York World Telegram and Sun. The next day, the tabloids feasted. The New York Daily Mirror had this banner headline: "50Gs FREE HEIR AS VICE LORD." But the story was carried by the broadsheets as well. The New York Times included a front-page story, above the fold, entitled "Oleo Heir is Seized in Vice Raids Here." The story of Mickey's arrest was picked up by the wire services and spread across the country, from newspaper to newspaper, in big cities,—the Washington Post: "Oleo Heir Arrested as White Slaver" and the Chicago Tribune: "Oleo Heir Jelke Free on $50,000 Bail in Vice Case"—and in small towns, like Kokomo, Indiana, where the Kokomo Tribune led with "Oleo Heir Faces Morals Charge." In some mid-western states, where Good Luck was the leading seller, the papers did not need to describe Mickey as the heir to an oleo fortune. The name Jelke was enough. "Jelke Held After Big Vice Raid" read the paper in one Iowa town.
The story was not confined to the United States. Around the globe, it resonated. In Sydney, Australia, the Sunday Herald headlined the story: "Playboy Arrested as Leader of U.S. Vice Ring." Similar headlines and stories appeared in Europe. Sex for sale is always a good lead but one sensational vice case is usually supplanted quickly by another. Yet, for reasons that no one could have predicted when Mickey was cuffed and taken to the Criminal Courts Building, the story of his prosecution would become a worldwide sensation and obsession rivaled perhaps only by Brodymania a generation later. Much of the ballyhoo over Mickey's arrest arose from the teenager picked up during the August raid that netted Mickey.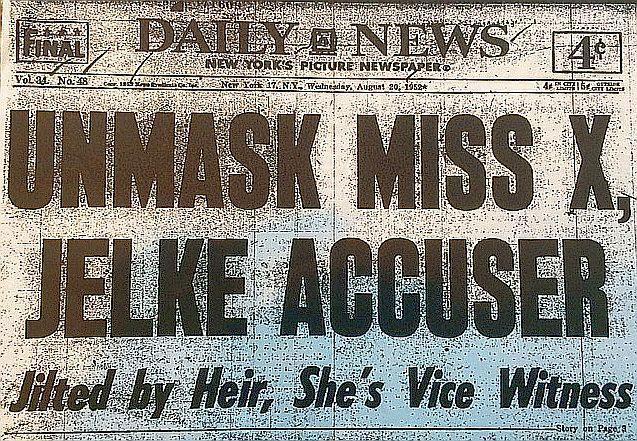 The teenager's identity was initially withheld from newspaper accounts of the vice sweep, but it soon became clear that "Miss X," as she was called in the headlines, would be the star witness for the prosecution. Her name and life story quickly leaked to the media. Sandra Wisotsky had just turned 19 a month before Mickey was picked up by the vice squad. Like Ray Russell Davioni, Wisotsky had many aliases. Sandra Ward, Jody Marsh and Pat Warren were a few of her akas, but she would become famous as Pat Ward, the name she was using when she was picked up by the police. She had grown up in the tenement slums of Avenue D on the lower east side, a subway ride to the Silk Stocking District and the glittering nightclubs that Mickey frequented, but her world growing up had been very unlike those places. Her father left when she was an infant, leaving her mother to care for three young children. It was a squalid life: her mother used newspapers to cover the dirty floor.
Pat grew up to be a beauty. She was tall, nearly 5' 8", and shapely. She had large pale green eyes and auburn hair, which she occasionally dyed blonde or black. At age 15, she looked older, passing easily for someone who was 18 or 19. She dropped out of high school, lied about her age and took a clerical job. She talked her way into the Dramatic Workshop. She dreamt of being an actress. She started modeling and had a set of publicity photos taken. With the portfolio, she pounded the pavement looking for an agent to help her break into show business. She tried different stage names, finally settling on Pat Ward. The television industry, then based in New York, was always looking for a new, pretty face. Pat was pretty enough—more than pretty. She had the look of a starlet but so did many girls. She interviewed with 20th Century-Fox but did not get a screen test. She hung around NBC's casting studio hoping to get an audition or a bit part. With other aspiring actors and actresses, she sipped Cokes at Hanson's Drug Store, a local show biz hangout on 51st Street and Seventh Avenue where agents prowled looking for new talent or a casting couch conquest.
She met a tall, handsome married man who dressed impeccably and claimed he was an agent. He seduced her. She would later claim it was rape. A few weeks later, she realized she was pregnant. She was 16. Her mother shipped her off to family friends in Connecticut to have the baby. A few months after she turned 17, Pat gave birth to a baby girl, who was given up for adoption. By early 1951, still 17, Pat was back in New York, looking for work and a way to fulfill her dream of making it in television or Hollywood. She took a job at a furniture store: it was steady work and the pay, $35 a week, was good. In the spring of 1951, an old girlfriend invited Pat to a party at a club in the Silk Stocking District, and she went. There she met a tall, handsome young man who, it was rumored, had money from a family business. Johnny Jelke took Pat to Armando's and El Borracho and a few other places, including a wild party where Pat drank too much, but Johnny Jelke wasn't interested in her. He was dating several other girls, including the daughter of another industrialist. Pat was not what he was looking for, but Mickey had another idea. Johnny introduced his little brother to Pat, who was three inches taller than the younger Jelke. She wasn't the first girl Johnny had steered to his younger brother.
On their second date in August 1951, Mickey plied Pat with drink, took her to his 47th Street apartment and talked her into leaving home. She could live with him, he said. He would support her. He was in love with her. Pat had found her dream man: young, polite and rich. In Pat, Mickey had found his dream girl: one that he could, with a little work, turn out to the street to help him live his life of luxury and debauchery. They started living together, following his routine of sleeping to 1:00 p.m. then club hopping to the wee hours of the morning. Mickey gave her a ring and a mink stole and talked of marriage and having children. He took her to his mother's Park Avenue apartment and weekend country house in Connecticut. Within a month, however, he had introduced Pat to Davioni while they were at El Borracho. Davioni was a big, muscular man in his mid-30s with a Sicilian complexion and dark hair, which he slicked back. He was coarse but flashy. He talked a good game. He sat down at the table next to Pat and started talking about Mickey's oleomargarine inheritance, still a few years away. It was at least three million and perhaps as much as six, but there was a problem.
"Pat," Davioni started, "you know of course that Mickey has no money, don't you?"
Pat glanced at Mickey, who had been telling her that they would be married next May. His brother Johnny would give him $20,000 to get them started, but that was months away. She had not heard details of Mickey's oleo money. "I am not aware of Mickey's financial status," Pat said. "I don't know."
"Well," Davioni said, "he hasn't. You know you could help him out." He was smoking a Camel and drinking a Manhattan. He had a pinky ring on his left hand. Davioni continued. "There's lots of girls that would help Mickey out. He could introduce you, and I would introduce you to men and you would go out with them, and have relations with them, and they would give you money." It was that simple.
Pat thought he was joking. She looked at Mickey, who slid his chair over to her and spoke in a loving tone. She really could help him out, he said. "You know I love you very much and I'm going to marry you in May," he said. "You can do this for me."